Product Education and Customer Outreach
Monday, November 28, 2022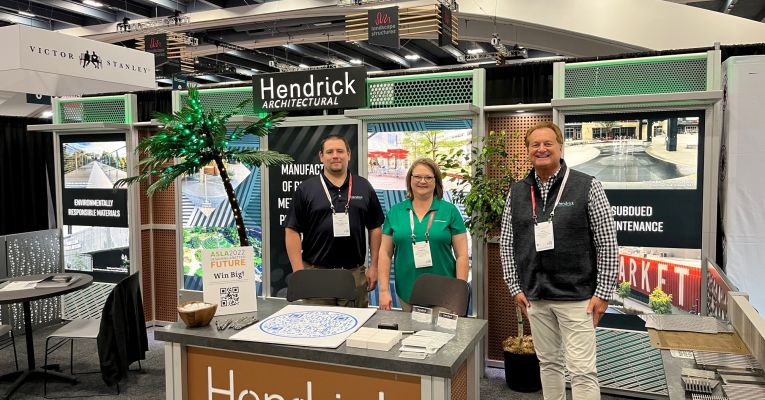 Trade shows have always been an essential part of Hendrick Screen and Hendrick Architectural's product outreach and networking endeavors, and the 2022 trade show season was no different. Professionals from our team participated in six major exhibitions this year, solidifying our group as one of the industry's unparalleled leaders in manufacturing wedge wire, profile bar and other solutions.
Among this year's highlights were the following:
1. AIA Conference on Architecture — June 23-24
The annual AIA Conference on Architecture features acclaimed architects, building product and architectural metal manufacturers, and designers from around the world conducting seminars and workshops that explore the latest projects and trends defining the industry. Professionals from the Hendrick team attended this year's show in Chicago, demonstrating some of our most innovative architectural solutions.
2. HYDROVISION International — July 12-14
HYDROVISION International brings together industry hydro professionals, including representatives from power production, small hydro, pumped storage, dam safety, government agencies, regulators, lawyers and more. Experts from Hendrick Screen attended this year's show at the Colorado Convention center, showcasing products for the water treatment, water intake and fish diversion industries.
3. National Parking Association Convention and Expo — September 18-21
The National Parking Association (NPA) Convention and Expo offers best-in-class education, training and networking for parking professionals across the country. Hendrick experts attended this year's event in Austin, Texas, and showcased some of our most groundbreaking solutions, including the perforated corrugated panels for the Blackwelder project.
4. National Recreation and Park Association Annual Conference — September 20-22
The National Recreation and Park Association (NRPA) Annual Conference is a gathering place for thousands of park and recreation enthusiasts to share their knowledge and show off the latest innovative products. The Hendrick team was on hand at this year's venue in Phoenix to feature products like tree gratings, drain covers, metal signage, pedestrian bridges, stair & railing components, waste/recycling enclosures, custom fencing and sun shading.
5. WEFTEC Technical Exhibition and Conference — October 10-12
The Water Environment Federation Technical Exhibition and Conference (WEFTEC) is the largest event of its kind in North America, featuring the world's top water quality professionals and providing access to some of the most innovative technology in the field. Experts from the Hendrick team showcased information about screens for water intake and treatment at this fall's event in New Orleans. 
6. ASLA Conference on Landscape Architecture — November 11-14
The American Society of Landscape Architects (ASLA) Annual EXPO is the world's largest landscaping event, drawing over 6,000 attendees annually. The Moscone Center in San Francisco hosted the 2022 show, with the Hendrick Architectural team showcasing several high-quality products, including our custom profile tree grating used in the Buckhead Atlanta Project.
Follow Us for More Updates
Hendrick Manufacturing is the leading manufacturer of custom-fabricated and perforated metal products in North America, serving a comprehensive market range. Our screen division is among the worldwide leaders in producing high-quality wedge and profile wire screens, while our architectural metal products division manufactures perforated metal solutions and grating systems for interior and exterior applications. Contact us today to learn more.