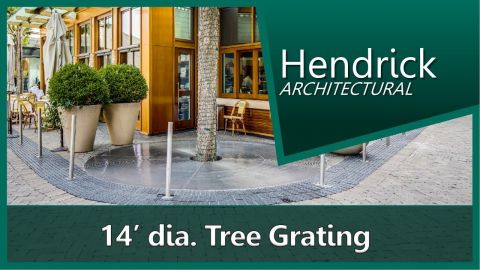 Project Location: Atlanta, GA
Bar Profile: B9 | .188" opening
Architect: Hoerr Schaudt
Buckhead Atlanta is a high profile, mixed-use project in Georgia's capital city. The project's goal was to make the landscape distinctive and welcoming, with mature trees to give shade, beautiful plantings that celebrate the seasons, and quality materials that identified Buckhead as a special place. Hoerr Schaudt called upon Hendrick to help achieve these goals when it came to the grating that surrounds the four 30,000-pound Oak trees planted at the corners of the Le Bilboquet restaurant.
Fabricated of 304 stainless steel, using Hendrick's award winning and proprietary B9 profile bar with 3/16" spacing, each tree grate measures 14' in diameter. The grates were designed to withstand 4,500 pound loads with inner and outer modules that included an I-beam support frame with 3 access panels.