Cutting-Edge Metal Solutions
Hendrick Screen Construction Methods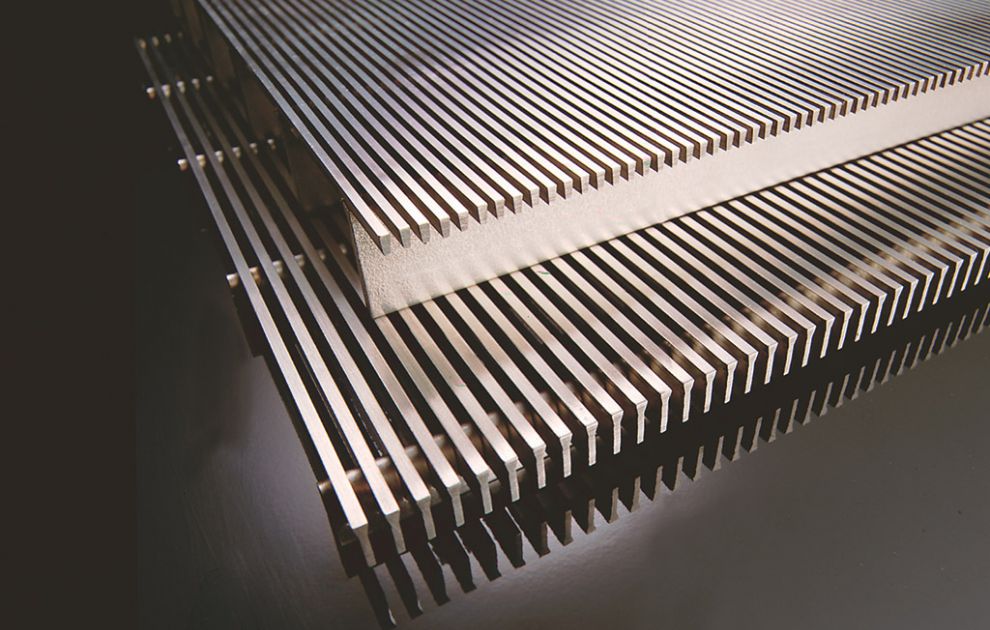 We offer both wedge wire and our proprietary Profile Bar construction methods for our screen products. Each has its unique advantages, and the choice depends on the application. Hendrick is the only American screen manufacturer that offers both Profile Bar and wedge wire solutions, allowing us to provide an unbiased recommendation on the best option for your specific needs.
Both wedge wire screen panels and Profile Bar from Hendrick are used in screen and filter applications where high-quality, construction is needed at a cost-effective price point — including wastewater treatment, food and beverage manufacturing and handling, petro-chemical applications, mining and coal, and more.
In these fields, Profile Bar and wedge wire screens are used as vibrating panels in separation and filtration machinery, vessel bottoms, and other mechanical applications. Stainless steel wedge wire screen and Profile Bar products are also suitable for decorative uses such as floors, panels and walls.
Hendrick's Profile Bar is suited to applications that require added strength or a very flat surface. Using our proprietary construction method, the bars are assembled into U-shaped clips with retaining pins that stake the bars in place, rather than welding the wire to supports. This method provides the added strength that enables Profile Bar screens to withstand heavier loads and makes them more resistant to impact. Plus, their much flatter surface means that Profile Bar screens require less maintenance.

Benefits of Profile Bar Screens

Superior Construction
Profile Bar screen bars are more than twice the height and weight of other screen bars; in fact, the individual bars are substantially stronger and stiffer than wedge wire. Less expensive resistance-welded screens require a thicker bar to achieve the desired strength, which limits the open area of the screen. By using a narrower, stronger bar, Profile Bar screens can provide a larger open area.
High strength
As a result of our Profile Bar assembly process, the bars are held firmly in place, making them very resistant to bending or tilting out of place. These screens have a greater impact strength than resistance welding wedge wire, making it more resistant to damage from heavy objects.
Flatter Screens
Profile Bar screens are an assembly, not a weldment. The height of the bars and the absence of welds result in a very flat, stable screen that is ideal when a mechanical cleaner is required.
Large open area
Stronger bars allow greater spacing between the support rods.
More material options
In addition to stainless steel, copper-nickel and specialty alloys, Profile Bar products can be produced in aluminum and carbon steel.
Ability to carry heavy loads, including liquids
No cracking or breaking like cast grates
Design flexibility — can be curved, flat or cylindrical
Longer service life and greater economy of use
The superior damage resistance of Profile Bar screens when used with a mechanical screen cleaner offers an improved economy and less maintenance than the initially less expensive welded screens. When you design your next screen, we ask that you evaluate the initial price of the Hendrick Profile Bar screen to the long-term cost and maintenance of the welded screen construction.

Options for Profile Bar Screens

Available in various slot openings, widths, heights and cap sizes
Can be produced flat, curved or cylindrical
Slot openings from 0.005" and up
Flatness ranges from 0.06" and up
Bar gauges between 0.069" and 0.50"

Hendrick's resistance welded wedge wire, also known as v-wire, is manufactured by wrapping wire helically around supports that are resistance welded together. Our wedge wire screens are fabricated to a variety of shapes, sizes and open areas to meet your project requirements. The result is a very strong product with a smooth surface that is resistant to clogging. This makes wedge wire products ideal for a diverse range of applications, including screening, filtering, dewatering, media retention, sizing, drying and cleaning.

Benefits of Wedge Wire Screens

Cost effective

Constructed from top materials resulting in a high-quality performance, cost effective solution.

No moving parts

Get reliability with low maintenance since there are no parts to wear out.

High-precision sizes

We provide design, engineering and manufacturing to ensure the precision you need in panel size, open area size, wire size and shape, and more.

High mechanical strength, lightweight construction

Wedge wire screens have been developed to provide excellent strength with minimal mass.

Excellent filtration performance

Wedge wire screens are an industry standard for filtration, collection, retention, dewatering and more.

Minimum clogging

Precision construction and custom wire shapes mean that wedge screens provide high performance with minimal need to clear the screen due to clogging.

Maximum flow rates

Precision open area manufacturing allows maximum flow while achieving the required filtration specifications.

Resistant to temperature variation

Wedge wire screens are suitable for a broad range of environments and temperatures.

Long life

Durable, high-quality materials mean your investment will provide results for years.

Options for Wedge Wire Screens

Slot openings from 0.002"
Standard flatness of 0.125" and greater
Available flat, curved or cylindrical
Axial or radial configuration of 6" and up
Seamless cylinders from 1" to 42"

We maintain a large stock of materials to get you what you need, when you want it. Our long-term, close relationships with our raw material suppliers offer us visibility and dependability, allowing us to provide excellent service to our customers. Plus, Hendrick's buying power enables us to provide very competitive pricing and shortened lead times. The same competitive pricing is offered regardless of order size.

Profile Bar Material Options

Stainless steel
Aluminum
Copper nickel
Carbon Steel
Specialty alloys

Wedge Wire Material Options

Stainless steel
Copper nickel
Specialty alloys