Innovative Aluminum Facade System on Parking Structure Leads to more LEEDs
Tysons, VA Parking Structure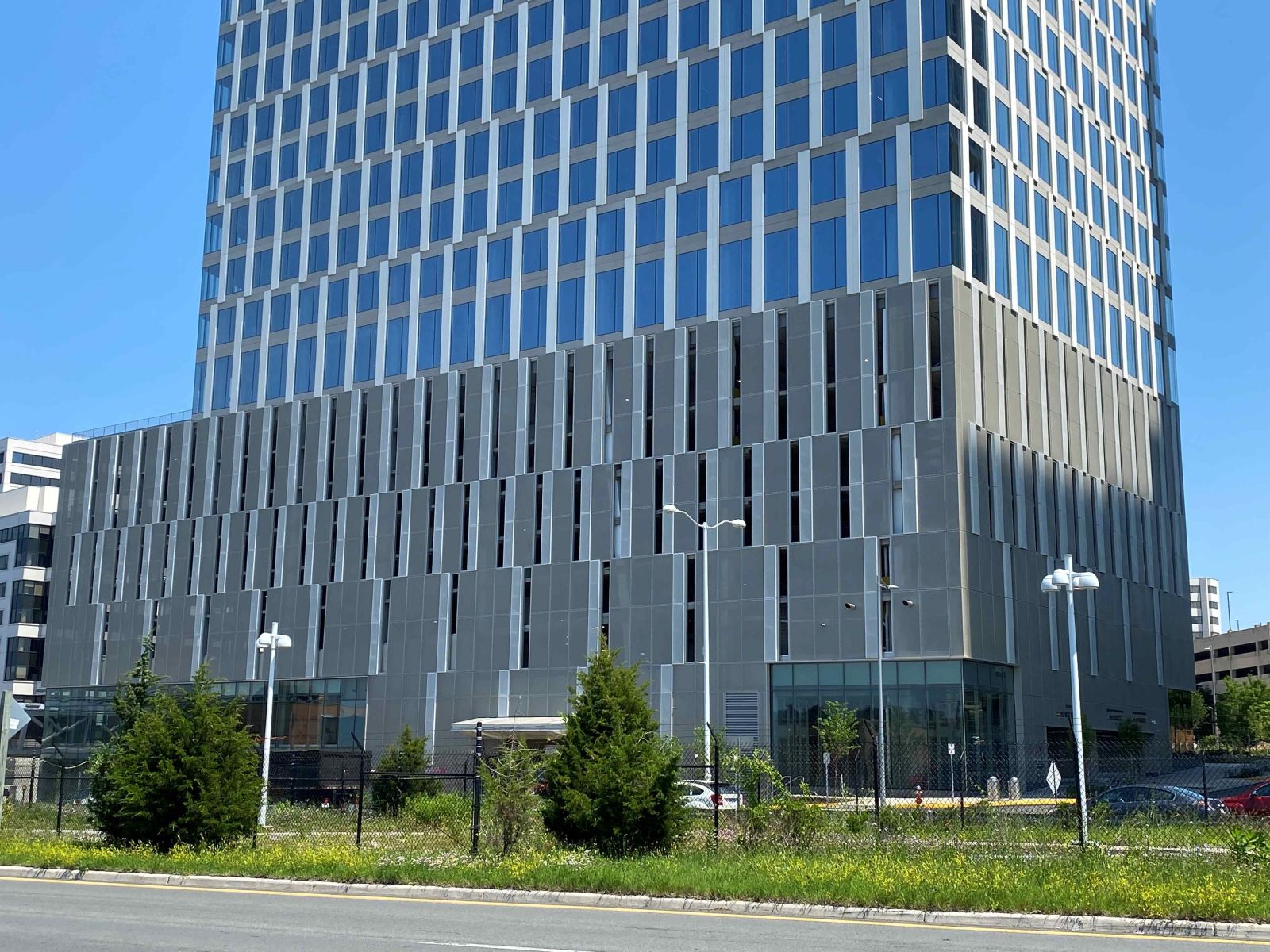 Project Location: Tysons, VA 
Cladding: .H-CLAD HD 
Material: Aluminum Framing and Perforated Panels
Hendrick Architectural recently completed an eight-story parking structure enclosure in Tysons, VA, incorporating their H-CLAD HD system. The project team faced several unique design challenges, as additional modifications needed to be engineered to match the architect's original design intent.
The first major hurdle was to convince the architect to consider a different material. The Hendrick team felt that an aluminum system would yield better results than a steel system. To accomplish this, the Hendrick team produced pre-engineering calculations, additional project case studies and samples of their work. The Hendrick Architectural team was able to demonstrate that the design could be manufactured in aluminum framing and aluminum perforated panels – cutting down the overall system weight and providing longevity to their project, while resulting in additional LEED credits.
Once this option was accepted, the next step was to work with the architect who designed the original cladding, to line up with the pre-cast panel system above. Hendrick took on the task of creating custom brackets to withstand the higher wind loads, while keeping the face of the panels lined up with the face of the pre-cast system. The architect also wanted two different depths of panels, one at 2" deep and one at 6" deep, along with custom trim around the openings throughout the facade. Utilizing Hendrick's wide range of manufacturing capabilities – all requirements were met. 
Throughout the project, Hendrick worked diligently with the installer and general contractor on custom fabricated assemblies to match field conditions, so the H-CLAD system would comply with all of the design and engineering requirements. This included additional custom weldments and brackets, along with stretching the capabilities of the materials to span greater distances. This project used Hendrick's standard H-CLAD aluminum sub structure and a mixture of 1/8" thick and 3/16" thick perforated aluminum panels with a 40% open area perforated pattern, painted in two different colors of a Fluoropolymer finish. Hendrick Architectural provided a full, off-site, mock-up system for approval before manufacturing the final project materials.
Once field conditions were approved, Hendrick worked to meet tight scheduling deadlines to get their product on site to meet installation timeframes. Special conditions required Hendrick's design team to visit the site and work with the installer and general contractor to provide the most cost-effective installation solution. The result of Hendrick's ingenuity, dedication and quality manufacturing, is this timeless parking structure located in a thriving community.