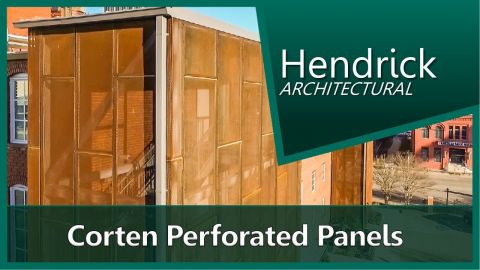 Project Location: Oklahoma City, OK 
Perforation Pattern: .375" dia. holes | 33% open area 
Architect: A.D.G. 
The Melting Pot and additional office space at 4 East Sheridan Avenue in Oklahoma City, recently received an exterior renovation. A.D.G.'s decision to clad the two stair towers with perforated corten metal panels gives the building an exclusive enhancement that tastefully complements the surrounding neighborhood.
The weathered steel panels resist the corrosive effects of rain, snow, ice, fog and other weather conditions by forming a coating of dark brown oxidation over the metal. Nearly 200 panels cover the stair towers, which are mounted using Hendrick's concealed fastener system with "J" formed edges. The panels have a 33% open area perforation pattern; punched with 3/8" round holes on 5/8" staggered centers.