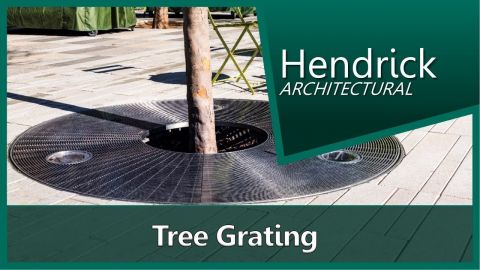 Project Location: Dallas, TX 
Bar Profile: B12 bar | .250" opening 
Architect: The Office of James Burnett 
Hendrick's manufacturing team was tasked with championing the design and manufacture of custom tree grates for a five acre central gathering space in the heart of Dallas, Texas – Klyde Warren Park. The landscape architecture firm, The Office of James Burnett, sought tree grates that limited the complexity to install, while sustaining maximum load capacity and reaching an aesthetically pleasing appearance. Additionally, the grates needed to be consistent across square, rectangle, and circular tree grates and allow for the inclusion of light fixtures to illuminate the trees.
Hendrick's award winning and proprietary Profile Bar construction method was utilized to manufacture the tree grates. This method minimizes the need for welding. Each of the 60 stainless steel tree grates were divided into three sections. The grates were then joined with a cantilevered support system to accommodate ample load conditions. The 1/4" radial slot openings, along with the evenly spaced support members, work together to visually create a sunburst effect.