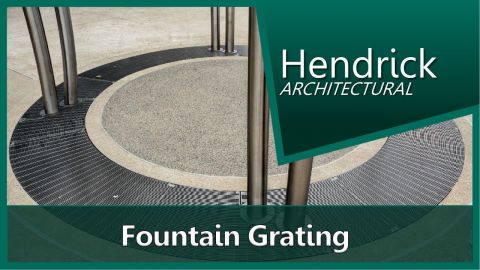 Project Location: Columbus, OH 
Bar Profile: B9 Bar | .200" opening
Architect: MKSK Studios
Located in the heart of downtown Columbus, the Scioto Mile is an urban oasis that stretches along the riverfront from the vibrant Arena District to the natural beauty of the Whittier Peninsula. Bicentennial Park, a 4.5 acre destination features the one-of-a-kind Scioto Mile Fountain as its centerpiece.
The fountain is complemented with over 320 linear feet of trench grating. Hendrick's award winning and proprietary Profile Bar construction was used to manufacture the grating, giving the project an exclusive appearance that could not be achieved with neither galvanized nor cast iron grates. Debris entrapment is also eliminated with the Profile Bar design. Additional features of the grating include .200" curved slot openings, custom flanges and 316L stainless steel support bars to withstand pedestrian and light vehicular loads.