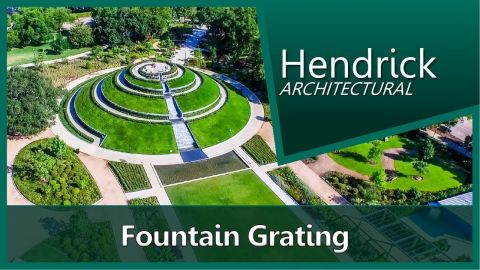 Project Location: Houston, TX 
Bar Profile: B9 bar | .250" opening 
Architect: White Oak Studio 
Located at Hermann Park in Houston, Texas, the McGovern Centennial Gardens is home to a diverse collection of gardens and a 30-foot mount. Visitors are invited to walk the spiral path to the top for a spectacular bird's-eye view of the gardens. In collaboration with the landscape architecture firm, White Oak Studio, Hendrick manufactured the curved grilles that provide a walkway over the flowing water.
The grilles were made with Hendrick's award winning and proprietary Profile Bar construction, giving the project an exclusive appearance that could not be achieved with neither galvanized nor cast iron grates. The largest of the grates spanned over 12' in length by 6' in width. The grilles contain 1/4" bar spacing and 3" support spacing. Hidden hold-down tabs keep the grating stationary during pedestrian traffic.