Stainless Steel Wall Panels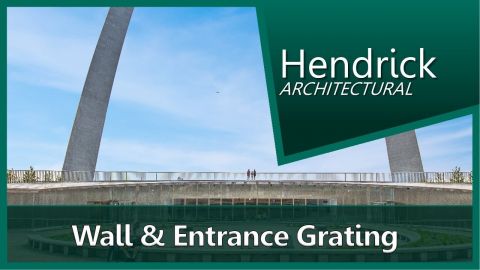 Project Location: St. Louis, MO
Bar Profile: B12 Bar | .125" opening
Architect: Cooper Robertson & James Carpenter Design Associates
One of the most iconic national monuments, the Gateway Arch in St. Louis, recently reopened its expanded museum after a $380 million redevelopment. The project, which has remade the Arch's grounds and nearby public space, includes a land bridge over an interstate highway that reaches eastward to the below-ground, circular entrance of the museum.
Designed by Cooper Robertson and James Carpenter Design Associates along with Trivers Associates, the museum's welcoming entrance features Hendrick's proprietary and award-winning T-24 stainless steel Profile Bar as vertical wall panels. With the entrance wedged into the slope leading to the monument, the design called for exterior panels that range in height from 1' to 17' and 1/8" bar spacing with enlarged slot openings.    
Hendrick also manufactured the conically shaped guardrail system that sits above the exterior panels. The system was uniquely designed to support the gentle descent and transition from the surrounding landscape into the West Entry. The 3-1/8" bar spacing maximizes view-through and discretely protects visitors from the thin glass canopy.
Hendrick's metalwork extends throughout the exterior of the area with trench grating located around the museum's entry and at both feet of the arch. Advancing inside the modernized museum, further use of Hendrick's Profile Bar as wall panels, entrance grilles and air diffusers contribute to the universal design goal of the Museum at the Gateway Arch project.