INDUSTRIAL METAL FINISHING
Expert Metal Finishing Services
Fabricated Metal Finishing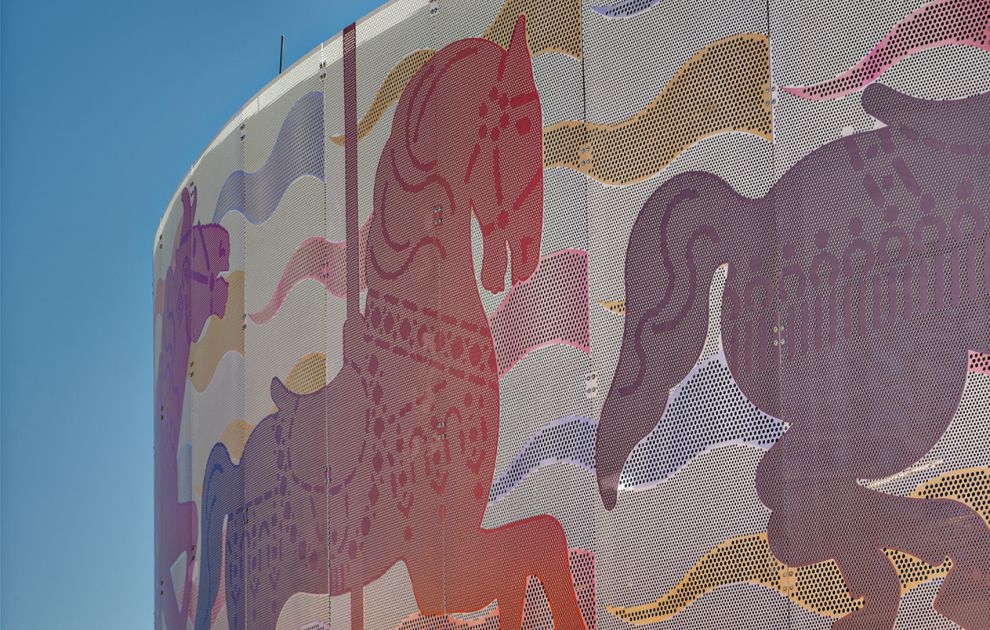 In metal finishing, the surface is treated in a particular way or a thin layer is applied to the product's exterior for a specific purpose. Depending on the technique or type of layer applied, finishing your fabricated component can provide durability, protection or a decorative appearance, for example. Hendrick offers several finishing choices for your application, including RoHS (Restriction of Hazardous Substances) compliant options.
BENEFITS OF METAL FINISHING
Increased durability
Improved decorative appeal
Enhanced electrical conductivity
Higher electrical resistance
Greater chemical resistance
Better corrosion resistance
ABOUT PERFORATED METAL FINISHING
Some finishing techniques — such as polishing, deburring and degreasing — provide a smooth, clean industrial metal finish. Other techniques like powder coating and anodizing are intended to add color, make fabricated products more durable, or offer protection from the elements.
OUR SURFACE FINISHING CAPABILITIES
Hendrick offers a vast array of metal finishing services to meet your needs. With 145+ years of experience and expertise, we are happy to recommend the best custom metal finish for your project and to manage the finishing of your parts or components — from degreasing to providing exactly the right color match.
Powder Coating
Applied electrostatically as a powder and then cured under heat, this hard finish is tougher than conventional paint.
Polishing
Polishing removes abrasions and scratches from the metal surface, making the finish cleaner and brighter.
Deburring
Burrs are the unwanted materials that remain on the metal surface after punching, drilling or grinding. Deburring refers to the removal of these materials.
Kynar® Painting
Kynar is a polyvinylidene fluoride (PVDF). This specialty plastic finish offers the highest purity, strength and resistance to acids, heat and smoke.
Anodizing
By increasing the thickness of the natural oxide layer on the metal's surface, this technique creates a durable, corrosion-resistant finish ready for the application of color or a sealant.
Electro-Polishing
Usually done to stainless steel, electro-polishing chemically mills the surface of the metal to create a smooth and bright industrial metal finish. It can be used to deburr, passivate or polish the surface.
Plating
By depositing a thin layer of metal to the substrate's surface, plating improves corrosion resistance, solderability, wearability, paint adhesion, and provides a decorative appearance. Electro-plating hardens objects, reduces friction and alters conductivity for radiation shielding.
Degreasing
Fabricated metal parts are treated to remove grease, oil and dirt before finishing the surface or to protect precision parts.
Passivating
Passivation decreases the chemical reactivity of the metal, making its surface more resistant to the elements and extreme environments. It protects against corrosion, creates a smoother appearance, and extends the life of the product.
Chromating
A chromate chemical metal coating increases corrosion resistance, provides an excellent base for paint, maintains an electrically conductive surface, and is decorative.
E-Coating
Electro-coating or electro-painting is a method of depositing a paint or lacquer coating on the metal surface via electric current. It's a good option when coating parts that have hard-to-reach areas. The product looks good and resists corrosion for a long period of time.
Silk Screening
Because silk screening does not require pressure to print, nor does it require a planar surface, this technique is ideal for printmaking on fabricated metal products.
CUSTOM FINISHING
Hendrick produces and applies tailor-made graphics, logos and decals to your fabricated metal products to add decoration, communicate warnings and instructions, or promote your business and services. We also color-match the finishing on your products to your company's color palette. Let us know what you want — our team is happy to collaborate with each and every customer!